CURRENT TOPICS FOR NEW PITCHERS
(AND THEIR PARENTS)
The Basics...Grip, Stride, Arm Rotation, Release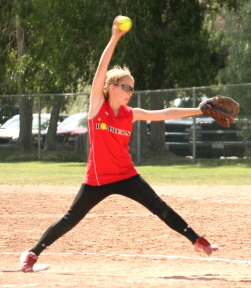 MECHANICS FIRST –
Learn, practice, and develop good pitching mechanics first...do NOT worry about throwing strikes when you are learning how to pitch.

Learn how to do it right, make certain that everything is correct and smooth, then later you can start adding speed.

Control
(throwing strikes)
should not be an issue in the beginning.

First learn the correct way of doing the pitching motion and delivery.

Then LATER you can work on being accurate and throwing strikes.
Avoid Pitching Injuries - 10 Things NOT to Do
Softball pitchers…even those with years of experience…often develop (or were even taught) incorrect pitching mechanics. Some can become successful. However, the majority don't reach their maximum potential, and a large percentage end up with short-term, or even career-ending, pitching injuries. If you are doing any of these 10 things, find a way to stop it... (click here for full article)

Recent E-mailed Questions and Recommendations
Each week we receive e-mails and telephone calls from visitors to this website. We would appreciate hearing from you, too, on any question or recommendation relating to girls fastpitch softball pitching. Click here for Recently-received Questions and Recommendations...and our replies.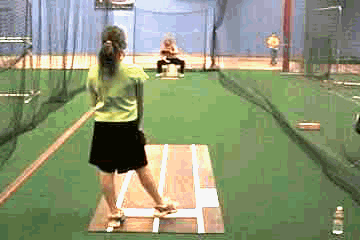 Top Ten List - How to Begin Your Pitching Career
1. Throw a minimum of 300 full-speed practice pitches each week (400 is OK). Practice, practice, and practice more. Hard, serious practice is everything. Windmill pitching is not going to be easy. You will need to build up to the point where you are throwing 100 to 125 pitches every two or three days.
2. Master the mechanics first…then speed. Use consistent arm speed the whole way around... (click here for full article)

Pitching Lessons - Recommendations
Like other skills, good softball pitching involves knowledgeable instruction and coaching and lots of practice. You should consider taking lessons only if you (1) really like softball, (2) are serious about becoming a good pitcher, (3) are willing to practice pitching several times per week, and (4) are doing it because YOU want to do it... (click here for full article)
How to Stop the "Leaning Forward" Problem
Every softball pitcher can pitch with better speed and better control if she brings her shoulders back and "comes back tall" as she releases the ball. Biomechanics studies have shown that a pitcher will have maximum "torque"…and therefore throw harder…if she does not lean forward as she finishes the pitch.
(click here for full article)

11-Years Old - With a Rise Ball?
It's a great dream…a young pitcher throwing the infamous rise ball. Pitchers and their parents like to brag about how many pitches they throw…even though all of them often look alike with no movement at all. A true rise ball is not merely a pitch that is released low and thrown to a chin-high spot. We discuss the correct spin direction, the very fast spin speed, and fast pitch speed required for a "legitimate" rise ball elsewhere on this website. In 20 years of training scores of pitchers of all ages and observing thousands more we are yet to see a pre-teen pitcher with a true "moving" rise ball... (click here for full article)
More Pitches for the Beginner - The drop, curve, screw ball, and rise ball
Okay, so we're playing a little trick to get your attention. Look, you are a new pitcher…likely with less than 6 months of learning and practicing the correct mechanics. At this point, any coach, parent, or pitching instructor who encourages you to throw anything other than a straight, hard pitch with a fair degree of accuracy... (click here for full article)
Pre-practice and Pre-game Preparation - The correct way to warm-up
Warming up properly and completely...in practice or before a game...is essential for good pitching performance. Depending on the pitcher, and the types of pitches she throws, warm-up time varies from as little as 15-minutes to more than 1-hour. A 10-year old rec league pitcher... (click here for full article)
Other articles on this website:
An Indoor Drill to Increase Your Pitching Speed
What is an "Average" Pitching Speed?

Toe Drag...How to Correct the Leaping Problem
Crow Hopping, Foot Dragging, & Other Misunderstood Pitching Rules
"Stepping Style" vs. "Leap-and-Drag" Pitching - Which is Best for You?

How to Select a Pitching Instructor
The Five Steps to Become a Softball Pitcher

Throw Faster by Using a Good "Body Lean"

The Best Change-Up

Recommended Products for Pitchers
If you have questions or need more information
E-mail us, or call Pitching Instructor Gerald Warner in Colorado at (720) 200-4575
Home Page | | About Us | E-Mail Us
For 1st & 2nd Year Pitchers | Advanced Pitchers | Coaches and Parents