by Gerald Warner, Softball Pitching Instructor

There are three primary phases of the pitching sequence
that contribute to the speed and control of the pitch.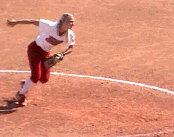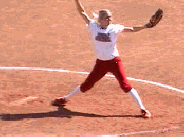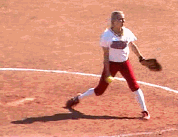 Explosive drive off the rubber Weight back on the downswing Pushback on the stride leg

These are the common elements of virtually every high-velocity pitcher. These photos were selected at random from analyses of hundreds of pitchers from 12 to 21-years old.
THE DRIVE OFF THE PITCHING RUBBER…"EXPLODE" -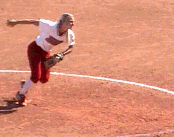 Similar to a sprinter coming off the starting blocks, it is the speed of a pitcher's drive off he rubber that lays the groundwork for a fast pitch. Although many pitchers are told to focus on the length of their stride, explosive speed is essential. A pitcher needs to feel that she has a "spring" in her pushoff leg, so when she transfers her weight and leans into the pitch, she can drive fast off the rubber.
"REACH BACK" THROUGH THE DOWNSWING –
Many pitchers make a larger arm circle by reaching back (toward 2nd base) as they reach the "open trunk" halfway point in their arm rotation. As seen here, it is common for a pitcher to actually tilt her upper body backwards and reach back toward 2nd base to get a larger, better "whip" of her arm down through the release of the pitch.
FINISH TALL WITH GOOD PUSHBACK RESISTANCE –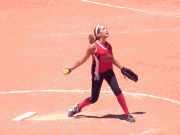 The same resistance that a hitter gets from her front leg at the point of contact, a pitcher needs to "set up a wall" and use her stride leg as the resistance for the final downswing into the release of a pitch. At the release point the pitcher's:
(1) landing leg is straight at a 15 to 25 degree angle, (2) upper body is erect, and (3) well back from the front foot, (4) shoulders are three-fourths (or less) closed, and (5) hips are halfway (or less) closed.
The most common mechanics elements in virtually all experienced, high-speed pitchers are:
(1) Good body lean and low explosive pushoff to get a fast drive off the rubber
(2) An extra "reach back – weight back" effort she puts into her downswing
(3) Getting "strong front wall" resistance from her landing leg, and finishing tall
____________________________________________________________
NOTE: The printable version of this article (below) contains additional photos.
This article above can be downloaded and printed from Microsoft Word


Do you want to reprint this article or use it on your website or in your newsletter?
As long as it is not for profit, our only requirement is that you first notify us, then include the following sentence:
Article by Gerald Warner of PitchSoftball.com
and include a reference to this website: www.pitchsoftball.com
If you have questions or need more information
E-mail us, or call Pitching Instructor Gerald Warner in Colorado at (720) 200-4575