by Gerald Warner, Softball Pitching Instructor

"First I learned how to throw a softball.
Then I learned how to throw it fast and accurately.
Then I learned how to throw it slow but make it look fast.
Then I learned how to spin the ball to make it go down, up, and sideways.
THEN I was a pitcher.
...and that's when the work really started!"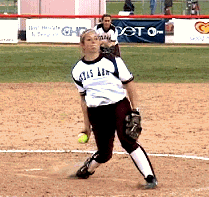 Many of the questions we receive from visitors to this website are from pitchers who are trying to improve the effectiveness of their breaking pitches…drop balls, rise balls, curves, and screw balls. Below is a recent e-mail received from a high school pitcher, and our response.
FROM W.N.:
"I am a high school senior and getting ready to go into my third year of pitching. I have a fastball and I can do a rise ball and a drop ball. My problem is my pitches do not have a lot of movement until right before it hits the catcher's mitt, after it passes the batter…Is there anything I can do to make my pitches have movement enough to make my rise balls and drop balls more effective?"

OUR REPLY:

Your problem is a pretty common one...the biggest difference is that your recognize it and want to get it corrected. Unfortunately, we have a lot of pitchers who brag about their 4 or 6 different pitches, but none of them work very well.
With all breaking pitches (drop, rise, curve, screw, and all the combinations) the key elements are always:
1) Correct direction of the spin
2) Speed of the spin
3) Velocity of the pitch


There are 2 simple rules for correcting soft break or "late break" problems:


a) Increase the speed of the spin


b) Decrease the speed of the pitch slightly (for the drop, curve, and screw...but NOT the rise)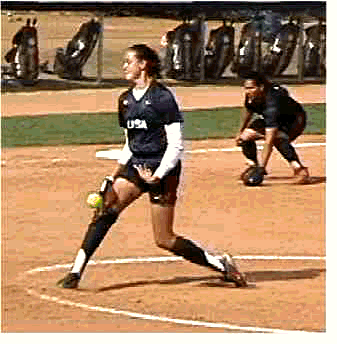 Make certain the spin of each pitch is right...the rotation is going in the right direction, and the ball is spinning rapidly. We see a lot of "rise balls" that don't rise because they don't have the bottom-to-top spin (as seen by the catcher), or curve balls that don't spin the right direction. Obviously, a drop ball has to have a tight, fast top-to-bottom spin.
My primary recommendation is for you to work on developing an off-speed drop. Keep your current drop ball and continue working on improving it, but an off-speed version can be very beneficial. The slower your hand goes through the release point, the easier it is to impart a tight spin precisely at the release of the pitch. This works with either the peel or the rollover drop. If you have a 58 MPH fastball and a 34 MPH change-up, then a 43 MPH off-speed drop can be a powerful weapon.
A tool that many pitchers use to help generate wrist strength and flexibility is the TightSpin Trainer. This "ball-on-a-stick" can be placed to demonstrate which direction the ball must spin for each breaking pitch, but also has an adjustable tension control to help pitchers develop better spin speed.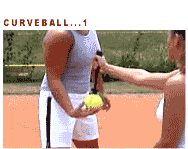 Here is a link to the website where you can find out more: www.fastpitching.com
The article above can be downloaded and printed from Microsoft Word




Do you want to reprint this article or use it on your website or in your newsletter?
As long as it is not for profit, our only requirement is that you first notify us, then include the following sentence:
Article by Gerald Warner of PitchSoftball.com
and include a reference to this website: www.pitchsoftball.com


If you have questions or need more information
E-mail us, or call Pitching Instructor Gerald Warner in Colorado at (720) 200-4575