by Gerald Warner, Softball Pitching Instructor


If you live near Denver or Highlands Ranch, Colorado you can contact Gerald Warner at (720) 200-4575 to arrange for an initial meeting, pitching session, and analysis. This first session would be approximately 45 minutes long, at a charge of $30. If you and Gerald decide to continue with ongoing pitching lessons, you will have an opportunity to discuss (1) how often, (2) location, (3) practice requirements, and (4) fees.

From time to time, pitchers from outside of Colorado have also requested to meet with Gerald and have a one-on-one pitching evaluation when they visit Colorado. For more information and details about a personal diagnostic pitching evaluation session in the Denver area, CLICK HERE
______________

Like other skills, good softball pitching involves knowledgeable instruction and coaching and lots of practice. You should consider taking lessons only if:
(1) you really like softball, (2) are serious about becoming a good pitcher, (3) are willing to practice pitching several times per week, and (4) are making the decision yourself…because YOU want to do it.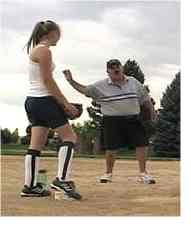 IS THIS WHAT YOU WANT?
Pitching can be a lot of fun. But it takes a lot of work and it can be stressful. Is this your idea or someone else's? If you are doing it because this is what YOU want to do, then we are interested in helping.
GOOD PITCHING TAKES A LONG TIME.
Be prepared to be constantly learning…now, and for many years in the future. Pitching will not be learned and perfected in a few weeks or months. Many pitchers in college are still taking lessons regularly, and are practicing several hours per day.
ARE YOU PLANNING TO PLAY SOFTBALL IN HIGH SCHOOL?
If you are just looking to get a little better, throw a little faster, and a little more accurately, but don't have plans to play softball more seriously in the future, then it probably won't be helpful to take pitching lessons. If you are planning to become a top pitcher in high school or college, then we're interested in working with you.
ARE YOU WILLING TO DEVOTE A LOT OF TIME TO PRACTICE?
Our top high school pitchers practice at least 1-hour per day 3 or 4 days per week…in addition to team practices and games. To get to the top, you will likely be throwing several hundred practice pitches per week, even during the winter months (during bad weather, practicing is often done in a garage or basement, throwing against a hanging piece of carpet)
DO YOU HAVE SUPPORT?
Parents, a brother or sister, or someone else can help tremendously if you let them. It is necessary to have someone will to catch for you during practices, and give you the encouragement you deserve as you progress. But again, the commitment and decision to take softball pitching lessons needs to be yours…not someone else's.
In the Denver, Colorado area, Gerald Warner can be reached
at (720) 200-4575, or e-mail him by clicking here.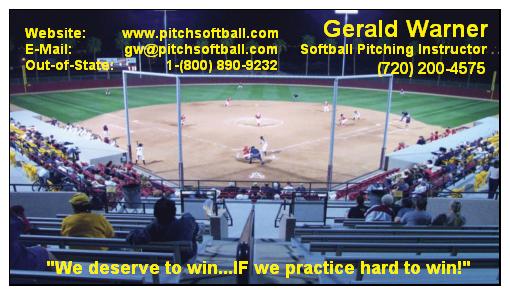 The article above can be downloaded and printed from Microsoft Word



Do you want to reprint this article or use it on your website or in your newsletter?
As long as it is not for profit, our only requirement is that you first notify us, then include the following sentence:
Article by Gerald Warner of PitchSoftball.com
and include a reference to this website: www.pitchsoftball.com

If you have questions or need more information
E-mail us, or call Pitching Instructor Gerald Warner in Colorado at (720) 200-4575
Home Page | Recent Questions and Recommendations | Site Map |Search by Keywords | About Us | E-Mail Us
Other Articles for Beginning Pitchers | 1st & 2nd Year Pitchers | Advanced Pitchers | Coaches and Parents